Limited Supplies!
Supplies are limited for our Total Testosterone Supplements.
Please call us at (860) 882-8080 to make a purchase!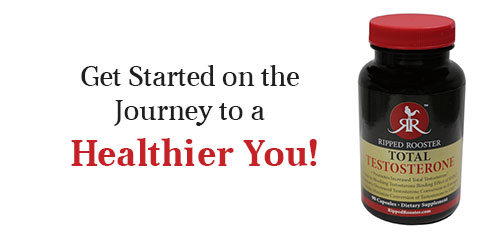 Description

Total Testosterone is a natural testosterone booster that can address many of the causes as to why men have decreased Total and Free testosterone levels. By assisting the body with testosterone production, Total Testosterone can help you achieve natural, safe and healthy levels of testosterone once again. This is accomplished without adding harmful synthetic testosterone which can ultimately shut down a man's own natural testosterone production.It is highly recommended that serum testosterone levels be monitored every 60 to 90 days while consuming this product to ensure that levels remain an acceptable range.

Read The Label

Ingredients in Total Testosterone have been incorporated and designed to address a variety of issues leading to decreased Total and Free testosterone levels.These ingredients include:

Velvet Deer Antler – Noted for improved sexual function and energy, strength, endurance, anti-inflammation, cartilage maintenance, growth and repair.
Tribulus – Supports a healthy level of LH and free testosterone.
Tongkat Ali – Promotes a boost to normal levels of free testosterone and sex hormone-binding globulin(SHBG) to optimize free testosterone
Nettle Root – Aids to inhibit the binding of testosterone to SHBG.
Chrysin – Helps inhibit aromatase, the enzyme that converts testosterone to estrogen, and promotes healthy testosterone to estrogen levels
Diindolylmethane – Helps promote a healthy ratio of good to bad estrogen while decreasing SHBG's effect on testosterone, it's conversion to estrogen, and DHT, making testosterone more bioavailable.
Saw Palmetto – Aids in inhibiting the conversion of testosterone to DHT and estrogen, which is important for prostate and hair health.
Bioperine – Helps enhance the absorption of nutrients due to it's thermogenic nature.

Benefits of Increasing Testosterone

Improved Sexual Performance
Boosted Energy Levels
Enhanced Libido and Sperm Production
Improved Memory
Lowered Fat Deposits
Controlled Cholesterol Levels
Increased Red Blood Cell Production

cGMP Certified

Ripped Rooster's products are manufactured under certified cGMP regulations governed by the FDA.

For more information view the

FDA's cGMP Regulations.